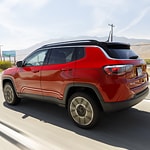 As one of the foremost popular compact SUVs available to buyers today, the new Jeep Compass has it all with an exterior that highlights its rough, rugged and capable features. It comes with 18-inch granite satin wheels that are ideal for taking it in the off-roads and into pastures, fields and gravel roads. It can be the perfect compact SUV for families who love to hunt, hike, and fish.
It also comes with an impressive amount of cargo space, ensuring that you have ample room to store all of your outdoor gear, groceries, and other belongings. You get more than 66 cubic feet of storage space and can make extra room by putting down the Compass's 60/40 split-fold back seat.
When you are on the lookout for a sturdy and appealing compact SUV, look no further than the new Jeep Compass. Take one out for a test drive today to appreciate it firsthand.