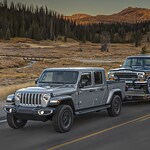 There are many options that are available if you're searching for a pickup truck. The new Jeep Gladiator may be one of your best options, and consumers can choose from multiple trims. This includes the Sport, Overland, Sport S, Rubicon, and others. Advanced technologies and premium upholsteries are also on the menu.
The new Jeep Gladiator has a chassis that's made of high-strength steel, and its cargo bed equates to 5 feet in size. That's enough room to haul around ATVs or dirt bikes. The truck's exterior has a militaristic appearance. The vehicle's aluminum doors are light in weight, and they can easily be removed if need be. The same thing goes for the windshield. Consumers can purchase the Gladiator with a hardtop, a zipperless soft-top or a blacked-out hardtop. Weatherproof outlets and a three-position tailgate are also available.
Our reps welcome all interested buyers to stop by for a free tour.